Best 5 Laptops For Students under 40000 In India 2023
Best 5 Laptops For Students under 40000 In India 2023
For students, a laptop is an essential device rather than being a luxury. The function of this student laptop is also different from the regular ones. The bestlaptops for students under 40000 should also be able to handle your big extracurricular activities, such as keeping up with your social networks, streaming movies, listening to music, posting photos, gaming and more.
Portability, battery life and performance are also some of the top necessities. Here are some of our recommendations of the best laptops for students
1.Mi Notebook 14 Horizon Edition
The Mi NoteBook 14 Horizon Edition comes with a thin aluminium and magnesium alloy chassis that is 20.7 cm thick and weighs just about 1.35 kg. It sports a 14-inch display with slim bezels with 91% screen-to-body ratio. It offers the NVIDIA GeForce MX350 GPU, which is a very capable graphics card for ultrabooks. You also get a USB Type-C port. Other ports include 2 x Type-A, 1 x USB 2.0, 1 x HDMI, and a combo audio jack.
2. Lenovo IdeaPAd Slim 1 Intel Celeron N4020 Thin and Light Laptop
f you want to buy an affordable student laptop for basic needs, this compact one can be a good option to pick. This laptop has a screen size of 11.6 inches and is even a good option for basic business needs. This laptop has 2 cores, 4MB cache, 4GB RAM and 256GB SSD to offer you a powerful performance without spending too much money. Available with a weight of almost 1.2 kg, this laptop is highly portable and allows students to study comfortably.
3. HP Chromebook x360 14-inch Thin & Light Touchscreen Laptop
If you want to buy a flexible touchscreen laptop for students under 40000 without spending too much money, this one can be a good option for students. This laptop has a screen size of 14 inches which is sufficient for most operational and student needs. Since it starts up in less than 10 seconds, this laptop will help you save your time considerably. With 4MB cache, 2 cores and 4 threads, this laptop is powerful and efficiently gets the job done. Since it is convenient to use, you will not face any difficulty in using it for your online lectures, college assignments and more.
4. Dell Inspiron 3501 (15.6 inches) FHD Anti Glare Display Laptop
This student laptop under 40000 can be another good option to consider if you do not want to spend too much money. Besides students, this laptop can easily be used for almost all personal needs. This laptop has a 10th Gen i3 processor, 4MB cache, 4GB RAM and 256GB SSD. The anti-glare LED-backlit screen ensures a high display quality and allows you to study comfortably for long hours. The 10th Gen i3 processor makes this laptop worth your money.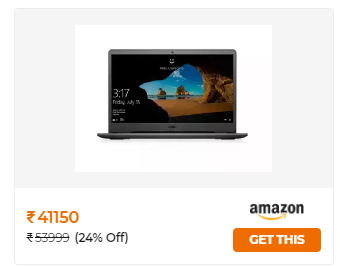 5. ASUS VivoBook S15
The ASUS VivoBook S15 is an excellent value-for-money laptop that has a sleek design and comes with an affordable price tag. The Asus Vivobook is a gorgeous-looking 15.6-inch laptop powered by Intel's Core i7-1165G7 processors and 8GB memory. The great thing about this machine is that it is thin and light and also comes with an SSD as a standard for improved speed and performance. It also packs all your essential ports including USB-A and USB-C alongside an HDMI port.